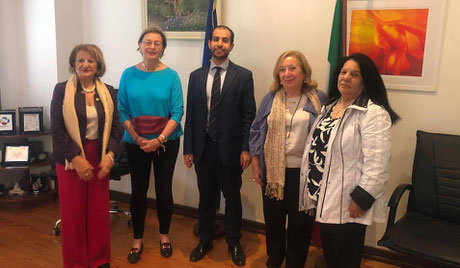 Accept the Congress Venue Mar del Plata
November 21-25, 2022
While we were a bit sceptical at the beginning regarding the choice of the congress location, the congress hotel convinced us as soon as we entered. Mar del Plata is located an hour's flight south of Buenos Aires directly on the Atlantic Ocean and has about 2 million inhabitants, a large part of whom are of Italian origin. It is a popular destination for seaside vacations for the Argentine population in summer (in the winter of the northern hemisphere). In the spring time it is extremely popular for congresses. In our hotel we met the Argentine Congress of Surgeons. This gave us a good opportunity to see the hotel in full action.
A large foyer welcomed us with registration, while the entire first floor was flexibly set up for business meetings, workshops and vendor booths. A mile-long beach promenade invites strolling, and surrounding restaurants serve very good food influenced by Italian cuisine. Mar del Plata is an ideal congress location! We visited several other hotels, met the tourist office and big companies where we will find future sponsors, as well as the local authorities on whose support we can count. In a first press conference we provided information on our goals and our organization. Mar del Plata is home to many Consulates that will be happy to cooperate with us. A first visit to the Italian Consulate confirmed this.
The visit to Mar del Plata also gave us the opportunity to meet the President of Villa Angostura (Patagonia) and through her and the director to learn more about the work of Arlette Neyens. 
Besides the Presidents of the surrounding clubs, the President from far distant Cordoba was also present; Marta Solimano and the Vice President of Buenos Aires accompanied us from the capital. The President of the Federation of Argentina, Olga Ahumada, gave us an exceptionally warm welcome and accompanied us from our arrival to our departure. We thank her for her extraordinary commitment, her subtle preparation for our visit, her presence and cordiality. This stay has laid the foundation for a fruitful collaboration. We are very much looking forward to the International Congress, which will of course demand a lot from all of us. It was hard for us to say goodbye to Olga and Mar del Plata, since we had found a home in Argentina.
We will be able to present a video of Mar del Plata before the end of the year, which will hopefully encourage everyone to travel to this exciting continent.
Dr. Catherine Bosshart, BPW International President 2021-2024