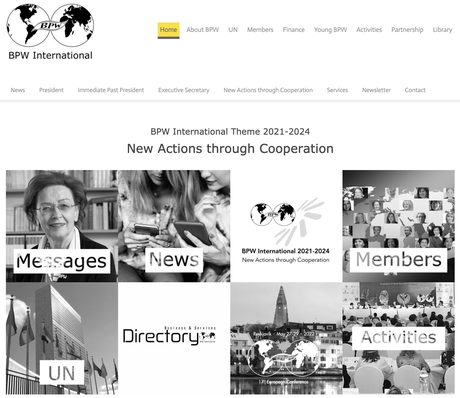 Welcome to our new website. These are our goals:
www.bpw-international.org 
presents BPW International vividly, clearly and in a restrained, modern style, 
radiates the dynamics of the association, 
promotes the visibility of BPW International 
is responsive, i.e. well displayed on all devices, 
is always up-to-date, 
informs and expands knowledge about BPW International, 
promotes international networking, 
belongs to the daily reading for a BPW. 
In order to achieve these goals, we count on the lively collaboration of everyone involved in the 2021-2024 triennium.  And we count on you, dear BPW and friends, to visit our website regularly and inform yourself about our association and the rich BPW work. 
To make the transition not too abrupt, you can still access the content of the previous website here for a few weeks.
Dr. Catherine Bosshart, BPW International President