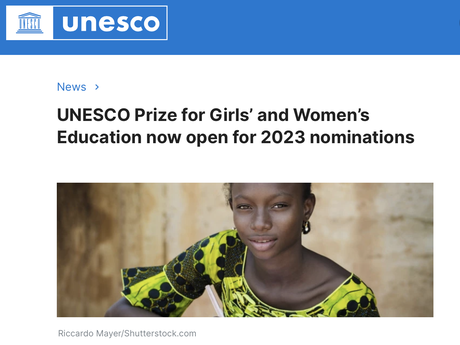 On International Women's Day, UNESCO launches the call for nominations for the 2023 UNESCO Prize for Girls' and Women's Education. The Prize awards US$ 50,000 annually to two laureates making outstanding efforts in favour of girls' and women's education. 
UNESCO has launched the call for the 2023 edition of the prize for Girls' and Women's education (deadline 15 May 2023).
Please read the criteria  below attentively. 
The nominations will only be considered if the project/programme:
has a clear focus on advancing girls' and women's education, the promotion of gender equality in and through education, and contributesto one or more of the five priority areas of the Prize:
1. Participation: Supporting girls to transition from primary education to lower-secondary education and to complete full basic education
2. Literacy: Supporting adolescent girls and young women to acquire literacy skills
3. Environment: Supporting the creation of a gender-responsive and safe teaching-learning environment
4. Teachers: Engaging teachers to be change agents with gender-responsive teaching attitudes and practices
5. Skills: Supporting girls and women to acquire knowledge/skills for life and work
has already been running for at least two years at the time of nomination (for example a project nominated in 2023 must have been active since May 2021);
shows evidence that it may be replicable, scalable and/or provide significant learning potential for initiatives in other contexts.