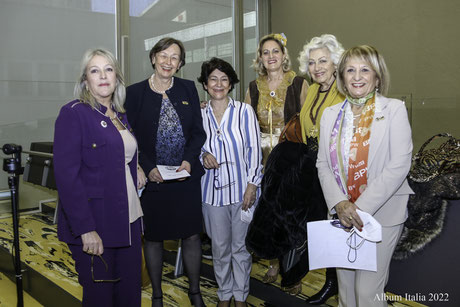 Premio delle Donne and Candle Ligthing Ceremony of FIDAPA Milano, 25 February 2022 
Due to the COVID situation, BPW Milano could only now give the award for outstanding work 2020/2021. Five women and two men received the award:
Senator Maria Cristina Cantu' received it for her administrative and political work on behalf of vulnerable people and people in need. 
The journalist Manuela Donghi received it for her comprehensive and articulate articles on economy and her engagement for women and people in need.
The medical director of the Hospital Macedonio Melloni, Marisa Errico, was awarded it for dedicating an entire hospital to all different aspects of women's health. 
Viviana Varese, a Chef with several stars, was awarded it for her career in a mostly masculine sphere. 
Romina Vuono has made an outstanding scientific career and achieved excellent results in the study of neurodegenerative illnesses.
The journalist and writer Aldo Cazzullo gave evidence to women who supported the growth of Italy and highlighted the importance of female associations. 
Diego Dalla Palma dedicated his life to supporting women in finding their potential in creativity.
The ceremony was concluded by a report of the Past President on the importance of collaboration between men and women.
Dr. Catherine Bossahrt, BPW International President 2021-2024