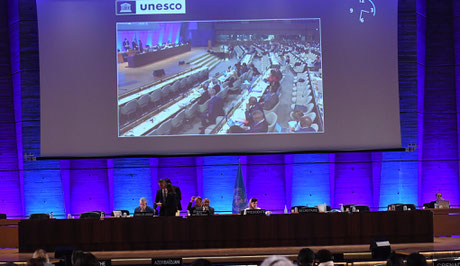 Committee on Non-Governmental Partners (NGP) of the UNESCO Executive Board 
Friday 7 October 2022
---
Comité sur les partenaires non gouvernementaux (PNG) du Conseil exécutif de l'UNESCO
7 octobre 2022
Report by: Marie-Claude Machon-Honoré, BPW International UN Representative, Main Representative UNESCO, Paris
In accordance with existing rules, NGOs in official partnership were invited to participate - in an observer capacity - in the meeting of the Committee on Non-Governmental Partners (NGP) of the UNESCO Executive Board, which was held on Friday 7 October 2022 in a hybrid format.
The meeting took place in praesentia at UNESCO Headquarters (Paris, France), from 10:00 a.m. to 1:00 p.m. and from 3:00 to 6:00 p.m. (Paris time). Nine representatives of NGOs took the floor among whom BPW International main representative to UNESCO and elected member of the NGO-UNESCO Liaison Committee, Dr Marie-Claude Machon-Honoré to present our actions and advocacy anchored in UNESCO's programmes and values to the Member States and UNESCO's Representative of UNESCO Director General.   
The Committee considered various issues under item 33 of the Agenda of the Executive Board entitled "Relations with non-governmental partners", which are all extensively referred to in documents 215 EX/33 and 215 EX/33.INF available online.
You can find the report of the Committee on the Non Governmental Partners by accessing this link.
Conformément aux règles en vigueur, les ONG en partenariat officiel ont été invitées comme Observateur, à participer à la réunion du Comité sur les partenaires non gouvernementaux (PNG) du Conseil exécutif de l'UNESCO, qui s'est tenu le vendredi 7 octobre 2022 de manière hybride. 
La réunion s'est tenue en présentiel au Siège de l'UNESCO (Paris, France), de 10h00 à 13h00. et  de 15h00 à 18h00 (heure de Paris). 
Neuf représentant.e.s d'ONG ont pris la parole dont Dr Marie-Claude Machon-Honoré, déléguée titulaire de BPW International à l'UNESCO et membre élue du Comité de Liaison ONG-UNESCO, pour présenter nos actions et notre plaidoyer en relation avec les programmes et valeurs de l'UNESCO devant les Etats membres et le Représentant de la Directrice Générale.
Le Comité a examiné différentes questions au titre du point 33 de l'ordre du jour du Conseil exécutif intitulé « Relations avec les partenaires non gouvernementaux ». Veuillez-vous référer aux documents 215 EX/33 et 215 EX/33.INF disponibles en ligne.
Vous pouvez trouver le rapport du Comité sur les partenaires Non Gouvernementaux en cliquant sur ce lien.