✝︎ Arlette Neyens - Past President of BPW Argentina
Arlette Neyens departed from us in February 2022 at the age of 85. She graduated in Humanities in Buenos Aires,  later became Director for Culture of Bariloche and Secretary for culture in the Province of Rio Negro. In BPW International she is known as the founder of the second Five-O project in Latin America, the Villa La Angostura High Institute of Art. In this function she conducted many projects in training and empowering women. As her friend, Prof. Olga Ahumada states: "She was a responsible and tireless professional, painter, writer, photographer, journalist with unparalleled energy, eternal enthusiasm, wisdom and leadership." We in BPW International will miss her greatly. 
Dr. Catherine Bosshart, BPW International President 2021-2024
Obituary
✝︎ Arlette Neyens - The well-known journalist and writer based in Villa la Angostura, passed away yesterday at the age of 85.
Today, a person of high human quality leaves a great void in our organization and among the people who love and appreciate her.
Our condolences to the family of this great woman, the Argentine Federation, and the members of BPW Villa la Angostura.
Together with Dora Fornaciari, she founded the newspaper "El Pionero" in Neuquén. Arlette graduated in Fine Arts in Buenos Aires. She was director of Culture of Bariloche and Secretary of Culture of the Province of Rio Negro.
She is also a writer, she published in three volumes the only research work on the "Pioneers of the Andean lakes", in addition to "Life and work of Dora Fornaciari".
She was the founder of the Villa La Angostura women's organization in 2001, and she was also a pioneer in that field.The women's association continues to function.
In Villa La Angostura she built in 2002 (with the support of BPW International and other international organizations) the first room-museum of Contemporary Art in Neuquén, declared, along with the activities of the women's institution, of interest by the provincial Legislature. Together with Georg Miciú, these are the first two contemporary museums in the area.
As director of the innumerable projects of BPW Villa La Angostura, she was awarded several times. She received the Woman of the Year award, an award from the Five-O Group (of the five most important women's organizations in the world) in Helsinki, and for the social program of music and inclusion of the Camerata she was awarded in Egypt with the "Gertrude Mongella Award", one of the most prestigious international awards for outstanding women in the world.
BPW América Latina, February 2022
Arlette Neyens, a leader who used and merged the local, national and international levels of BPW
Arlette Neyens was an outstanding BPW leader. She not only worked locally and nationally, but also used the influence and tools of BPW International in a very smart manner.
5-O Project in Villa La Angostura
When I became International President, Arlette contacted me seeking support for her project for training and empowering women in their professional activities. The mayor of Villa La Angostura was willing to offer a storage building for Arlette's projects for free but he wanted proof that BPW International, as well as the Five-O, were real institutions. As in 2003 I also headed the Five-O, I was the right person to travel to Villa La Angostura and show the mayor that his community supported a very valuable project.
Five-O Projects
The Presidents of the 5 international Women's Organizations: International Council of Women, International University Women, International Soroptimists, International Zonta and BPW International met annually in New York and agreed on different projects, the so called Five-O Projects.
Inauguration of Five-O Projects 2004 with a political surprise
Wanting to attend the inauguration ceremony on the occasion of the Regional Latin America Conference 2004 in Villa La Angostura, I was stopped by Mapuche people who demonstrated against the projects. The matter was serious as the police were present. 
The Mapuche leader stopped me, demanded that I should not attend the opening but should listen to their concerns. While I listened to my translator, my only concern was how to get out of this delicate situation. I made it clear that I would go to the opening, but afterwards would spend time with them for discussions, which they finally accepted.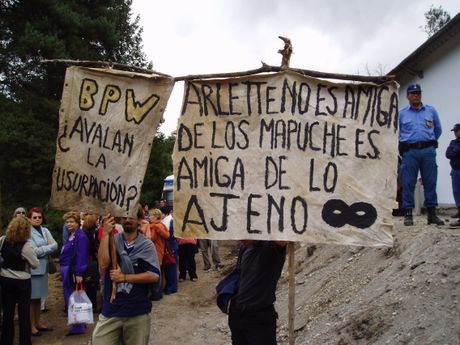 Demonstration of Mapuche indigenous people:
Arlette Neyens no friend of the Mapuche, is a friend of what is foreign and BPW endorse the usurpation?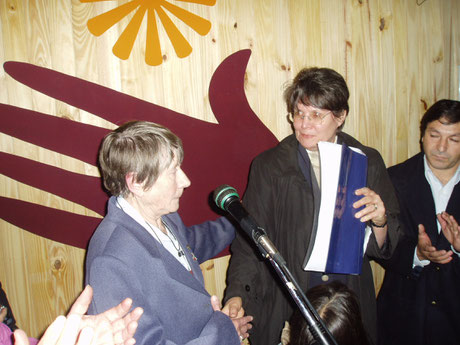 Arlette Neyens has launched her projects successfully.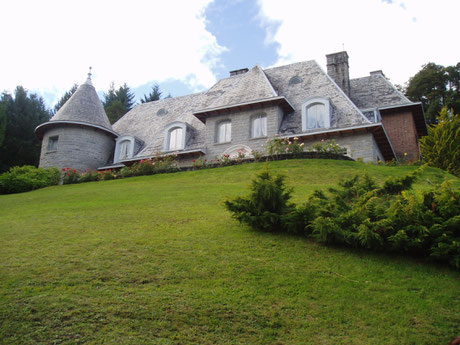 Accommodation for official guests
Thanks to Arlette's good relations with the municipal authorities, the members of the International Board were accommodated at Villa Messidor, a house which the municipality made available to guests of state. Compared to a stay in a normal hotel, the accommodation in a villa in a beautiful natural setting and with personal service was a unique experience.
Let's follow Arlette's footsteps
Arlette Neyens knew how to use the local, national and international levels for her BPW commitments. BPW International thanks her for her role model function and hopes that many members follow her example.
Dr. Antoinette Rüegg, BPW International President 2002-2005