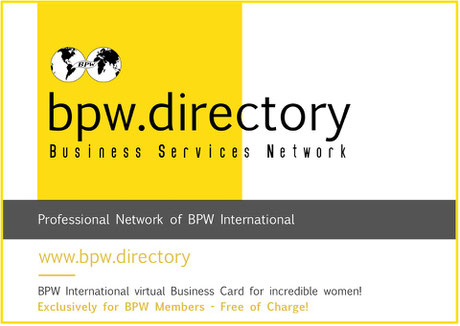 At the occasion of bpw.directory's first anniversary at Valentine's 2023, an update of the program was started which is integrated and brings full advantage to all of us who are registered:
1st advantage
Business Card with own internet address
Each profile in the bpw.directory is newly issued with its own URL (internet address). Copy the URL and share your BPW International Business Card, be it in the social media profiles like Facebook, Twitter, LinkedIn and others, on your own website, in the signature of your emails.
2nd advantage
Free text (read more) now has 1800 characters and an edit function.
Expand and design your free text on the Business Card. Promote yourself and your business, advertise your projects, benefit from the space provided to you in the directory of our international network, stay actual and always up to date. Directly below the free text you can link your website as well as your social media presences.
3rd advantage
Advanced search filters
Click on the search box with the magnifying glass "Search for incredible women" at bpw.directory. You have 9 search filters at your disposal, which you can combine. For example, search for legal consulting with industry 1 and sector 1.66. You can now also select to show only Italian speaking BPW from this search. Exciting, isn't it?
With bpw.directory 
you have a virtual business card at your disposal - always up-to-date, available and to the point!
the professional network of BPW International is available to you for your placement as a BPW - be part of it and show it!
network locally, regionally, nationally, internationally - we BPW know each other!
BPW International Virtual Business Card for incredible women!