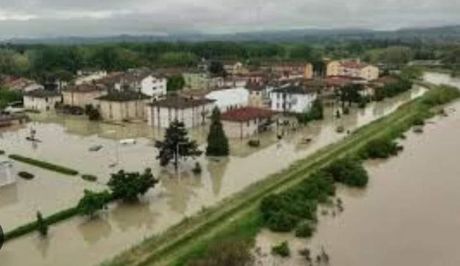 Care Socie BPW
La natura può distruggere interi mezzi di sussistenza in alcuni momenti. Questo è successo di nuovo nella Regione italiana dell'Emilia Romagna. La gente poteva solo guardare come la loro casa era in balia delle forze distruttive dell'acqua. 
In questa Regione FIDAPA BPW Italy ha 4 Sezioni colpite dove rivolgiamo il nostro pensiero affettuoso (Bologna, Ravenna, Forlì e Cesena).
BPW International contatterà le Presidenti delle quattro Sezioni ed invierà a ciascuna un piccolo contributo di emergenza. 
Le socie da tutta Italia ed in particolare del Distretto Nord Est hanno già organizzato i loro aiuti di emergenza sotto la guida di Carla Laura Petruzzelli, Presidente  Fidapa BPW Italy Distretto Nord Est. Chi volesse offrire il proprio aiuto può farlo contattando Carla Laura.
Un pensiero di solidarietà alle nostre socie BPW Fidapa BPW Italy dell'Emilia Romagna!
Dott.ssa Catherine Bosshart, BPW International President 2021-2024
Dear BPW Members,
Nature can destroy entire livelihoods at certain times. This happened again in the Italian region of Emilia Romagna. People could only watch as their homes were at the mercy of the destructive forces of water. 
In this Region FIDAPA BPW Italy has 4 affected Sections where we turn our loving thoughts (Bologna, Ravenna, Forlì and Cesena).
BPW International will contact the Presidents of the four Sections and send each a small emergency contribution. 
Members from all over Italy and particularly from the Northeast District have already organized their emergency aid under the guidance of Carla Laura Petruzzelli, President Fidapa BPW Italy Northeast District. Those who would like to offer their help can do so by contacting Carla Laura.
A thought of solidarity to our BPW Fidapa BPW Italy members of Emilia Romagna!
Dr. Catherine Bosshart, BPW International President 2021-2024
Chères membres BPW,
La nature peut, à certains moments, détruire des moyens de subsistance entiers. C'est ce qui s'est produit une nouvelle fois dans la région italienne d'Émilie-Romagne. Les gens n'ont pu que regarder leurs maisons à la merci des forces destructrices de l'eau. 
Dans cette région, FIDAPA BPW Italie compte 4 sections sinistrées auxquelles nous adressons nos affectueuses pensées (Bologne, Ravenne, Forlì et Cesena).
BPW International contactera les présidentes des quatre sections et enverra à chacune une petite contribution d'urgence. 
Des membres de toute l'Italie et en particulier du district du Nord-Est ont déjà organisé leur aide d'urgence sous la direction de Carla Laura Petruzzelli, présidente de Fidapa BPW Italy North East District. Toute personne souhaitant offrir son aide peut le faire en contactant Carla Laura.
Une pensée de solidarité à nos membres BPW Fidapa BPW Italy d'Emilia Romagna !
Dr. Catherine Bosshart, BPW International President 2021-2024