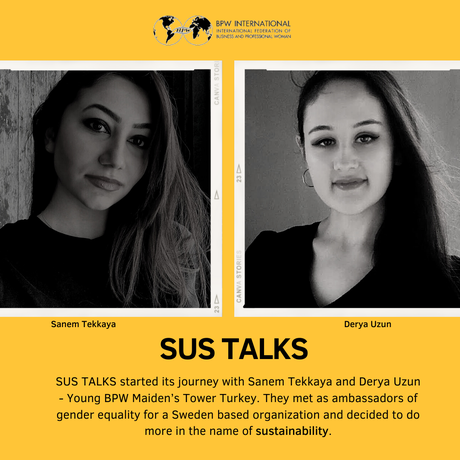 Here you talk - Here we talk - Here SUS TALKS!
SUS TALKS started its journey with Sanem Tekkaya and Derya Uzun, Young BPW Maiden's Tower Turkey. They met as ambassadors of gender equality for a Sweden based organization and decided to do more in the name of sustainability.
SUS TALKS started as a digital publication which works to raise awareness and make sure that people's voice around the World are being heard. SUS TALKS wants to use its website as a publication to talk about sustainability with various approaches. You don't have to be an expert of sustainability, we also publish creative writings related to sustainability.
SUS TALKS has been constantly working with professionals and students and preparing research papers for the implementation of the desired sustainability projects. SUS TALKS is also writing project proposals to possible grants. 
Sanem and Derya are members of Young BPW Maiden's Tower Turkey Team and they are very excited to collaborate and learn with BPW.