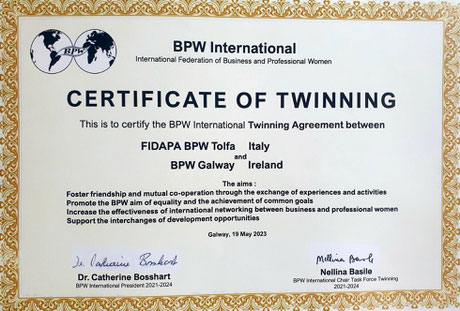 Galway, Friday 19th May 2023 - a date to remember!
In the splendid location of the Ardilaun Hotel in Galway, before the Charity Summer Lunch, was signed the Twinning between Fidapa BPW Italy TOLFA Club and BPW Ireland Galway Club. A fantastic ceremony and a warm welcome from all Irish sisters! There were present a lot of BPW authorities and also Institutions: the Mayor of Galway and the Mayor of Tolfa, two young splendid women!
We wish the Twins much joy and success in their joint activities!
Nellina Basile
Chair BPW International Twinning Task Force 2021-2024