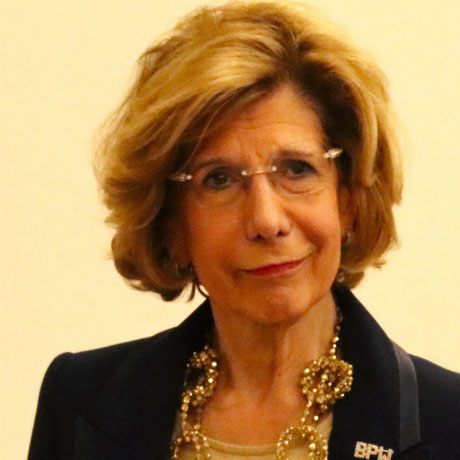 Gorajski Visconti, Cristina
BPW Italy
Italy
---
---
---
Languages
Italian, English, Spanish, French
---
Born in Rome – Studies in Argentina- Italian University Degree in Modern Languages- Training at  EU (Brussels – Italian Commission)
Experienced analyst of latin-american socio economic projects of an international charity organisation in  Frankfurt a Main  (1975- 1977/1983)
Member of  Business and Professional Women Association (BPW)-Italy from 1988,  is serving also at regional level  as Member of the BPW It/ Center Italy District  (Lazio, Tuscany, Marche and Umbria regions).
BPW International Federation Representative at FAO  since 2006,  at present is the Coordinator of the Adhoc Group of International Non governmental organizations  (www.ahgingos.org).
Attended different meetings and Congresses for BPWInternational  in Italy,  Australia, Mexico, USA, Finland, Jeju and Cairo, as a member of the UN-representatives' Committee.
Active member of  different  non profit organizations  (Lions Club,  Panathlon Club, Associazione Italo Polacca delle Marche),  from 2012  is  Honorary Consul of Poland  in Ancona, for the Region of Marche.
Areas of expertise:  Administration -  Women Entrepreneurship – Equal Opportunities – Non Profit
---
News
---
Watch the Videos concerning BPW that is posted together with other INGOs at FAO in our general website  www.ahgingos.org dedicated to the International Year of Fruits and Vegetables. 2022 will be the year dedicated to Artisanal Fisheries and Acquaculture. 
Cristina Gorajski Visconti, BPW International UN Representative to FAO