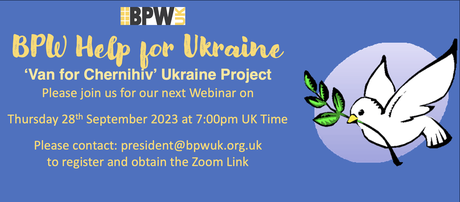 Next Webinar on Zoom:
Thursday 28 September 2023 at 7:00pm UK Time
(20:00 UTC+2) (Find your time)
Join us to hear more about this project that has been granted funding from BPW International to buy a vehicle to help distribute humanitarian aid in Chernihiv, Ukraine. BPW UK President Jo Kinsey has worked with Amélie Leclercq from BPW France and together they have secured funding totalling €25,000.
Next, they aim to raise further funds to fill this with useful items needed to help people, with the help of BPW Chernihiv member Victoria Filatova and Yulia Zayka.
Victoria will be joining us at this webinar to explain how this will be used, and what day to day life is like for Ukrainian women. We can hear in the media what life can be like, but we are honoured to welcome Victoria who will share her first-hand knowledge with us.
Participation and registration - get the Zoom Link
This webinar is open to all, and friends of BPW UK are welcome. 
Please email Jo Kinsey, president@bpwuk.org.uk for the joining zoom passcode.
With the support of BPW International and of the Bulgarian NGO Gorata Fondatsia, BPW UK is launching a fundraising campaign to acquire, equip, and transport a multifunctional van for the benefit of a Ukrainian NGO of the city of Chernihiv. BPW International Executive, under the leadership of our International President, Catherine Bosshart, is donating €25.000  to the project which goes a long way towards the acquisition of a second-hand van.
The aim of the current fundraiser is to :
equip the van according to the needs of the residents of Chernihiv
cover the administrative costs of the acquisition and 
the travel expenses of two persons of BPW Chernihiv coming to Sofia in September for administrative formalities and to drive the van safely to its destination.
You can participate !
By clicking this link – please mark contribution with 'Van'
https://bpwpayment.aplusready.com/bpw-help-for-ukraine-refugees
For more information, please contact
BPW UK Jo Kinsey  president@bpwuk.org.uk  
or Amélie Leclercq  presechni.tochki.eood@outlook.com
Donation Link