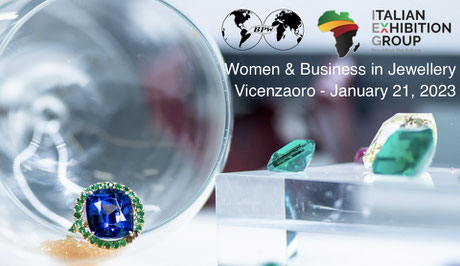 Vicenza Oro, January 21, 2023
During the Jewellery Fair BPW International and the African Business Council organized a conference on Female African Leadership in the sector of mining and gemstones and future steps to enhance the situation of African women in the mining sector and BPW, Women in Jewellery, Entrepreneurs and Business Development. 
Speakers were 
H.E Ambasssador Albert Muchanga,
Memory Kachambwa, Executive Director of Femnet,
Marco Carniello of the Italian Exhibition Group,
the Mayor of Vicenza, Francesco Rucco,
Parliamentarian in the European Parliament, Paolo Borchia,
the President of BPW Geneva, Florence Angles,
Dr. Rosanna Bertuccio, member of the Swiss BPW
Executive, Designer Cosimo Vinci,
journalist, blogger and influencer in Dubai, Samah Wahbeh,
and Italian Past National President, Dr. Cettina Olivieri.
Welcome addresses were made by
the International President, Dr. Catherine Bosshart,
the Chair of the African Business Council, H.E. Dr. Amany Asfour,
the Vice President Membership of BPW International, Dr. Giuseppina Seidita,
the Executive Finance Officer, Dr. Eufemia Ippolito,
Vice President of BPW Italy, Cettina Corallo representing the Italian President, Fiammetta Perrone.
The Moderator of the Conference was Dr. Carla Laura Petruzzelli.
The coordination of the event was provided by Susanna Benetti and Maria Michela Allegro.
The event attracted approx. 70 participants. The conference was interesting and very instructive. We thank Marco Carniello and the Italian Exhibition Group for their support. They gave us a very convenient room with all the necessary infrastructure which we could use. The event was livestreamed and translated into English/Italian.