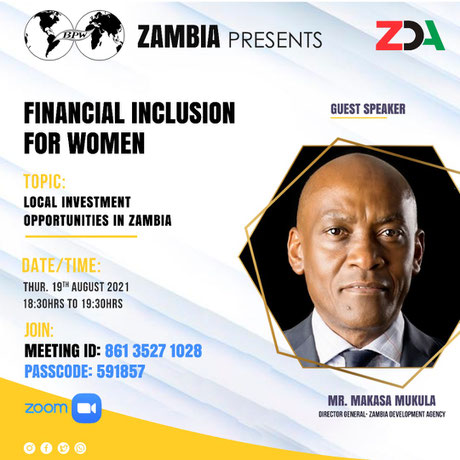 Financial Inclusion For Women is key to driving global economical development. There are a number of areas where financial services strengthen the floor, ladder and social support that assist women in achieving economic empowerment. So how can financial services level the playing field for women and lead to equitable impact?
Join us tomorrow 
Thursday, 19th August 2021 at 18:30–19:30h 
Guest Speaker Mr Makasa Mukula, Director General of the Zambia Development Agency (ZDA)
The Zambia Development Agency (ZDA) is responsible for promoting and facilitating the development and growth of local enterprises especially the Micro, Small and Medium Enterprises (MSMEs) in the country, in order to create wealth, employment and to accelerate industrialisation and economic diversification.
Join Zoom Meeting
https://us02web.zoom.us/j/86135271028?pwd=b1F2WmdhWFNMRlZpaWhoMitwTXFOUT09
Meeting ID: 861 3527 1028
Passcode: 591857
Date: Thursday, 19 August 2021
Topic: LOCAL INVESTMENT OPPORTUNITIES IN ZAMBIA 
Time: 06:30PM - 07:30PM Africa/Lusaka CAT (18:30hrs - 19:30hrs)
Rose Sibisi, President BPW Lusaka Zambia