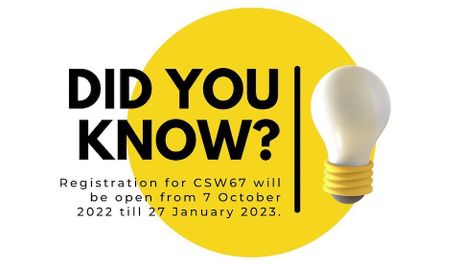 How do you participate?
Clarification to a Facebook post of Young BPW International about how to participate at CSW67
The registration is open from 7 October 2022 up to 27 January 2023 and will - as it is correctly said - go through Indico.
However, the number of places per NGO is very limited and the selection process for participation for NGO BPW International will be done by BPW International. Therefore, before registering on Indico, the BPW member will need the accreditation of BPW International.
BPW members interested in participating contact their Regional Coordinator (they can be found on the website on Members under their respective region). Their chances of selection are better if they are active in one of the themes of the CSW67 which are the following:
Priority theme: Innovation and technological change, and education in the digital age for achieving gender equality and the empowerment of all women and girls;
Review theme: Challenges and opportunities in achieving gender equality and the empowerment of rural women and girls
Thank you for considering these requirements.