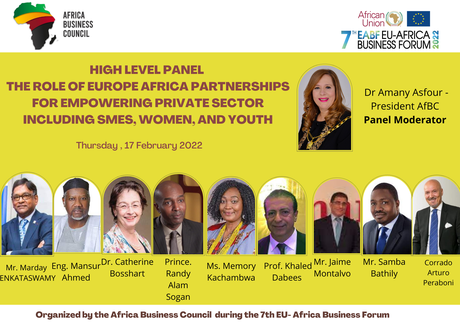 EU-AFRICA BUSINESS FORUM 2022
The 7th EU-Africa Business Forum (EABF22) will take place from 14-18 February 2022 in a fully digital* format. Co-organised by the European Commission, the African Union Commission, as well as EU and African business organisations and key institutions, the event brings together political and business leaders from the EU and Africa to increase opportunities for sustainable economic partnerships.
High Level Panel
The Role of Europe Africa Partnerships for Empowering Private Sector Including SMEs, Women, and Youth
17 February 2022, 13:00 to 14:15 CET
Panel Moderator
Dr. Amany Asfour, BPW Immediate Past International President 2017-2020
On the Panel
Dr. Catherine Bosshart, BPW International President 2021-2024
Ms. Paz Martin Lozano, Chair of Business, Trade and Technology Standing Committee, BPW International
Organised by the African Business Council, COMESA and the Spanish Chamber of Commerce
This event will explore means of strengthening Africa Europe partnerships, and the role of the private sector to respond to disrupted markets and ensure post- COVID 19 economic resilience and steady recovery driven by strong, vibrant, and dynamic Private Sector. It aims at supporting and empowering the participation of SMEs, women, and youth in the African and the global economy, and exchange of experiences and capacity building towards strengthening the private sector in Africa.
All Speakers
Mr. Jaime Montalvo, International Director, Spanish Chamber of Commerce
Mr. Marday Venkatasamy, Chair of Comesa Business Council and Vice President of the African Business Council Mr. Ahmed Mansur, President, Pan-African Manufacturers Association
Prince Randy Alam Sogan, CEO, The Black Lion Fund
Dr Catherine Bosshart, President, BPW International
Ms. Paz Martin Lozano, Chair of Business, Trade and Technology Standing Committee, BPW International
Ms. Memory Kachambwa, FEMNET
Prof Khaled Dabees, CEO, AB Care Technology
Mr Samba Bathily, Chairman, Ecosystem Capital