BPW Hong Kong 
Monthly members events
- Global skills workshops 
- Chinese New Year membership drive event
Project GenE (Generation Equality)
- Project MBS (Mind, Body and Soul)
- Mentorship programme etc .

---
BPW Japan
As BPW Japan, we have been vigorously lobbying for women's advancement, such as the Equal Pay Day Campaign, etc. Our president Haniwa Natori and Executive members of 
BPW Japan visited the Cabinet and exchanged meaningful discussions with Director-General, Gender Equality Bureau, Cabinet Office on Nov. 4, 2021. 
We also visited Employment Environment and Equal Employment Bureau, the Ministry of Health, Labour and Welfare to have further collaboration on Nov. 5, 2021. Furthermore, Regional Study Meetings open to public were held in Oct. 2 & Nov. 27, 2021.
EPD National Assembly, scheduled on September 18th.
Regional conferences scheduled
Internship project for young women to CSW
Young Speech Contest etc
---
BPW Korea (MudeungClub)
The Mudung Club of BPW Korea sent a donation of USD 1,000 along with a declaration of support for Democracy in Myanmar on November 26th.
In 2019, MudongClub sent 10 sewing machines to Myanmar children for a living, and this year, they also sent medicines and clothes needed for COVID –19
Annual Candle Lighting Ceremony
Annual Gold Award
Mentoring Program for foreign female students
Conduct a zero disposable product relay campaign
Regular General Meeting etc. 
---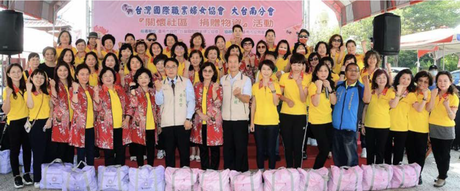 BPW Taiwan 
ESG corporate visitation & HER-Story Exhibition 50th Anniversary (Jan 2022).
Women's Peace Forum (Mar 2022)
Every year on June 5th, the tree planting project 
Celebration of 92st Anniversary of BPW International and Social Welfare activity (Aug 26th, 2022)
Election of the 8th President (Dec 2022) etc.
After the epidemic was stable, BPW Taiwan cooperated with Tainan Branch to organize a donation event for low-income households in Tainan on 31st October. 
In addition, we had a General Assembly on 12th December and arrange corporate visitation on 13th December. This company is dedicated to the ESG concept and promoting ecosystem education. 
During the General Assembly, we invited an expert dedicated to ecosystem research to share her experiences. Thus, we hope to let our members have a better concept of the ecosystem. Furthermore, we had combined the idea of the ecosystem into our long-term planning. 
---
BPW Mongolia - Introduction of Mongolia Individual Members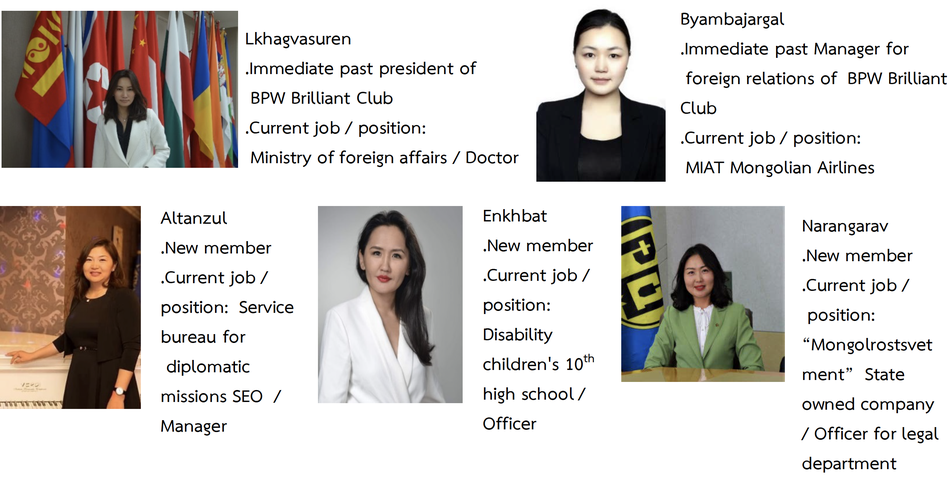 ---
Our beloved Masako Hiramatsu
Born in 1933 as the eldest of 4 siblings, in Kagawa. A graduate from Tokyo Woman's Christian University and also completed a Master's program at Tokyo Metropolitan University in 1964.
After working at the radio division of the US embassy in Japan, Masako has joined Radio Kanto as a broadcast journalist. She then covered the Vietnam War as the first Japanese female reporter to be dispatched overseas.
Masako served as the President of BPW Japan 3 times since 1995. She has also served as the Chair of Environment Committee for IFBPW, leading her to join the World Environment
Summit in Johannesburg in 2002. As the iconic figure of BPW Japan, she is one of the top reasons for many members to join the sisterhood. Her attraction did not stop only within BPW, but also over all other women's NGOs in Japan, politicians, and even the government officials such as MOFA and generations of Gender Equality Bureau in Cabinet Office. Masako introduced many of the main BPW programs in Japan including EPD, Young Speech Contest, GGGI seminars, and the CSW internship, which empowered many younger generations for decades. 
In order to keep "fighting" for women, she played tennis with her personal coach weekly, always went out to meet new people, and of course to enjoy good food with beer, until just before being admitted to hospital for a thorough check on her back pain in July 2021. She actively joined the online meetings and events while being bedridden, and even managed to be allowed some beer on Nov 18th. Masako has lost her battle on Nov 30th, surrounded by her family in the hospice facility. She is survived by 2 younger sisters, a younger brother, nieces and nephews who supported throughout her 88 years' life full of great achievements and influences.
By Otoha Hayashi, Young BPW, Chair of International Committee BPW Japan