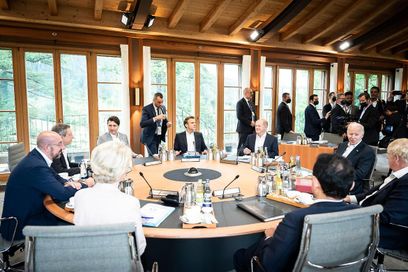 PRESS RELEASE | June 28, 2022
"Progress towards an equitable world" is the goal set by the German G7 presidency in its program. From June 26 to 29, the G7 heads of state and government met in Elmau to coordinate their positions on current challenges and to launch joint initiatives. The objective of gender equality finds its footprint in several places in the G7 Communiqué:
"Time to Deliver was Women7's appeal to the G7 this year. Today in Elmau, we see: The G7 is on the right track! We welcome that G7 leaders have pledged to advance equality among all genders but criticize the lack of concrete financial commitments and measurable goals.  It is therefore an important step that the G7 countries have agreed to record their progress on gender equality in a 'dashboard' and to update it annually. As civil society, we will critically monitor its implementation. " said the President of the National Council of German Women's Organizations (Deutscher Frauenrat), Dr. Beate von Miquel.
Just two months ago, Dr. von Miquel handed over the Women7 (W7) recommendations to German Chancellor and G7 President Olaf Scholz as part of the W7 Summit. Some of these demands are reflected in the G7 final declaration: gender equality policy goals should be included across all policy areas. The role of underpaid and unpaid care work is recognized as an essential for the functioning of our societies and economies. In addition, the rights, resources and opportunities of women and girls in all their diversity are to be advanced in the spirit of feminist development, foreign, and trade policies.
Source: women7.org 
On the occasion of the 2022 G7 Summit in Elmau, the official engagement groups Women7 and Youth7 hosted a press conference presenting their recommendations to G7 leaders and critically reflecting on the G7 Summit Agenda.