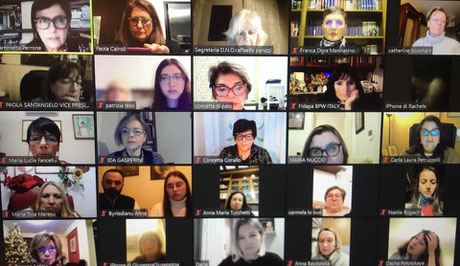 «The National Project A Scholarship Award as an Opportunity to Start Over funded by BPW International will enable each District to give a €3,000.00 scholarship to Ukrainian male and female students in order to support concrete action of solidarity with the Ukrainian people, promoting the values of knowledge, inclusion, human rights and access to study and education.
Our solidarity is always with Afghan, Ukrainian and Iranian women; all united in spreading a culture of respect and rights. In this regard, the Fidapa BPW Italy Appeal for Iranian women sent to the President of the Republic, the Prime Minister, the Secretariats of the Ministry of Foreign Affairs and Equal Opportunities, and BPW International President Catherine Bosshart was appreciated and welcomed. We hope that the relevant institutions can adopt appropriate policies to eliminate acts of violence.»
Fiammetta Perrone, Fidapa BPW Italy President, Newsletter October 2022
In concrete terms, BPW International has used the donations for Ukraine to provide 7 scholarships for Ukrainian university graduates. Fidapa Italy consists of 7 districts, each of which has selected one Ukrainian woman to attend a university in their region. After negotiations with the universities concerned in the districts, the Ukrainian women do not have to pay any enrolment fees and receive a scholarship of 3,000 euros for one year from BPW international mediated by Fidapa Italy. Students from all faculties and from the Bachelor and Master levels can now benefit from this. 
The students are:
Kateryna Medvedieva  
Anastasiya Bogack
Maryna Bondarenko 
Anna Byrledianu
Daria Pototska
Ivanna Yurina
Daria Knysh
Katerina Khutornenko  
The Districts are:
Distretto Nord Ovest   
Distretto Sardegna 
Distretto Centro
Distretto Sicilia
Distretto Sud Est
Distretto Sud Ovest
Distretto Nord Est
The students during a Zoom meeting